The chrome bit as above so can be used for colour coding or as a temp whilst yours is being done.
Relatively good condition just the usual nicks you'd expect - but this won't matter if it's being sanded down anyway.
Not sure how much the going rate is for this so say £70 + buyer covers postage or local pick up.
Peace! Xx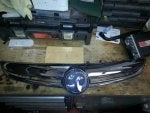 Sent from somewhere original.